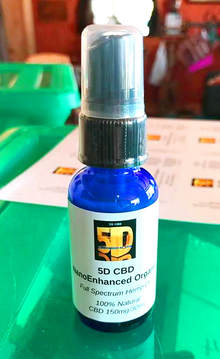 AboutCBD Hemp Oil is made from Industrial Hemp. CBD oil is LEGAL and AVAILABLE in all 50 states. No permit or prescription is required. Every adult U.S. citizen can now benefit from the use of CBD oil!Our 5D CBD contain the HIGHEST QUALITY HEMP OIL AVAILABLE containing high amounts of CBD (Cannabidiol) 100% Natural-Pure CO2 Extract. It is 100% Organic, Gluten Free, Non GMO Hemp and has No Heavy Metals or Insecticides. Batch tested using Ultra Performance Convergence Chromatography.
Since industrial hemp is still illegal to grow in the US, Our manufacturing plant imports CBD rich industrial hemp paste from Norway where industrial hemp is legally grown and processed. The import process is complex. We must provide samples to the FDA, DEA and Homeland Security for testing. The industrial hemp paste is held in quarantine until all government agencies sign off that the THC levels are within the legal limits (essentially nonexistent). Once the CBD rich hemp paste is in our possession, we further extract the CBD with ethanol and Ultra Performance Convergence Chromatography. This process uses high pressure CO2 as a solvent to separate the CBD from non-active organic compounds in our cGMP lab. This is the same process GW Pharmaceuticals of England uses to extract CBD for use in Sativex, the world's first prescription pharmaceutical made from cannabis extract. Because we follow these industry standards, our CBD oil is the most effective and of the highest quality on the market today.
​
Although CBD and THC act on different pathways of the body, they seem to have many of the same medical benefits. According to a 2013 review published in the
British Journal of Clinical Pharmacology
, studies have found CBD to possess the following medical properties:
Antiemetic
Reduces nausea and vomiting and Treatment for epilepsy
Anticonvulsant
Suppresses seizure activity
Antipsychotic
Combats psychosis disorders
Anti-inflammatory
Combats inflammatory disorders
Anti-oxidant
Combats neurodegenerative disorders
Anti-tumoral/Anti-cancer
Combats tumor and cancer cells
Anxiolytic/Anti-depressant
Combats anxiety and depression disorders
Post-Traumatic Stress Disorder- PTSD
Reduction in apoptosis
Treatment for leukemia
HIV patients
Alzheimer
Bowel disease: Crohn's disease
Pain management
CBD seems to offer natural protection against the marijuana high.
Numerous studies
suggest that CBD acts to reduce the intoxicating effects of THC, such as memory impairment and paranoia.
CBD also
appears
to counteract the sleep-inducing effects of THC, which may explain why some strains of cannabis are known to increase alertness.
Both
CBD
and
THC
have been found to present no risk of
lethal overdose
. However, to reduce potential side effects, medical users may be better off using cannabis with higher levels of CBD.